The Union Police believe Jessica may be in the West Los Angeles area, and the Police Dept. there are keeping an eye out for her. We still need and appreciate all the help from the people who look at her web site. Time just keeps on passing. Sometimes it's just so hard to deal with. It would be so nice to get a break. NCMEC keeps things going because of one of their peoples commitment to see that it happens, even though Jessica isn't a child anymore. All in God's time, though, not ours.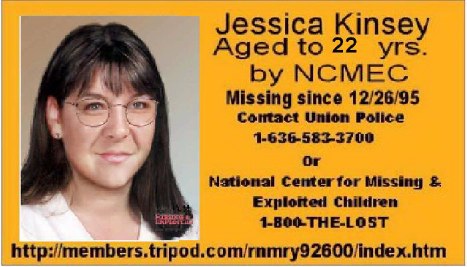 This is an idea that my wife Mary and I came up with. It's a business card that"s easy to pass out to other people and they find it easy to keep with them. Feel free to copy it and make your own. The more people that see Jessica's face, the better chance we have at finding her.

13 July, 2001
It's now been well over 5 years since Jessica disappeared. The latest news that we have is that the Union police dept. aren't going to be handling our investigation anymore. That priviledge has been handed over to the Los Angeles police. Now we have to call to a whole different state to find out what's being done. It seems that everyone thinks that Jessica was murdered, and the last person that says that they saw her was in L.A. So, now we play the waiting game again. We have to make some kind of contact with people that we have never met, try to forge some kind of link with them, and get them motivated to start looking for our daughter. Sometimes it just seems like an insumountable task! It would sure be nice to have a break sometime. But I guess that just happens in fairy tales and movies.

Jessica, if you see this, please, please, please come home! We'd love to have you back home no matter what the circumstances.

October 23, 2002
Well, it's been almost 7 years. Where do you go from here? We still don't know where to look. The police still have a pretty good idea about what's going on, but apparently they are helpless. We still get updates from NCMEC and they want to know if we have found anything. Not too long ago there was a possibility that she was in Iowa. A young man called and stated that he thought that he knew her. Like everything else, it was a dead end. I hate to use that word. Kinda sounds like someone has given up. That really isn't the case. We still have hopes. My wife gets torn into pieces every time something new happens. We still pray that eventually Jessi will find her way back home.


March 9,2004
Over 8 years now. It's been a long time since we've seen our little girl. It's hard to think that she isn't a little girl anymore. She's a 23 year old woman now. Sure would have been nice to see all the changes in her life.

On the home front, there is hope. My wife and I would like to express our extreme gratitude to the Carrington Foundation. They have seen fit to post a $5000.00 reward for the safe return of our daughter. There really are some nice people left in this world. Perhaps with this incentive, someone will feel like saying something to the Union Police Dept. That's a pretty good incentive to most people. Our thanks go to the police as well. They have been instrumental in keeping the case going.

We have recently gotten a new caseworker at NCMEC. I don't know if he would like to have his name mentioned so I won't. He specializes in cases that are over 8 years old and has a good track record. As to the person that he has replaced, she knows who she is and has become actually a friend as well as just the person working on Jessi's case.

With all of these people working on the case, things are looking hopeful. Please keep us in your prayers, that's the ultimate help.